Tampa, FL – January 30, 2020 – Qualityze, Inc. has been certified as ISO 9001:2015 – compliant after an in-depth audit of the company's internal operations. The ISO 9001:2015 Quality Management System (QMS) certification demonstrates Qualityze's compliance with quality management principles within its software development processes of its Next Generation Quality Management System.
The ISO (International Organization for Standardization) standards for quality management systems (QMS) serve as the basis for the Good Manufacturing Practices (GMP), Good Clinical Practices (GCP), and Good Laboratory Practices (GLP) required by most government regulatory bodies.
"Achieving ISO 9001:2015 certification spotlights Qualityze's structured and systematic approach to developing the next generation quality management solution with innovative software development processes," said Chandra Shekar, Qualityze CEO. We have obtained ISO Certification, this is a truly monumental accomplishment for our company. Qualityze has set a new standard for designing software solutions that reflect the best practices outlined in ISO quality standards and implementing those solutions into its client's organizations. Our customers understand the value of quality compliance and have chosen to dedicate resources to proactively managing it with our solution.
This achievement attests to Qualityze's fundamentally sound and new approach to continuous quality improvement. Qualityze leverages its commercially available EQMS platform to automate key elements of its own corporate quality management program. Qualityze streamlines numerous quality management processes such as those for managing audits, CAPAs, complaints, nonconformities, assets, suppliers, changes, documents, and training certifications.
We will continue to strive for best practices and meet our quality objectives.
Customer Satisfaction
Employee Satisfaction
Product Quality
Timely Delivery of Services
Process Quality
Continual Improvement
This excellent achievement will continuously motivate us to stay committed to quality for all our future endeavors and keep our customers satisfied by delivering prominent software solutions to serve their quality management needs.
Qualityze – Smarter Quality Solutions to achieve your business excellence!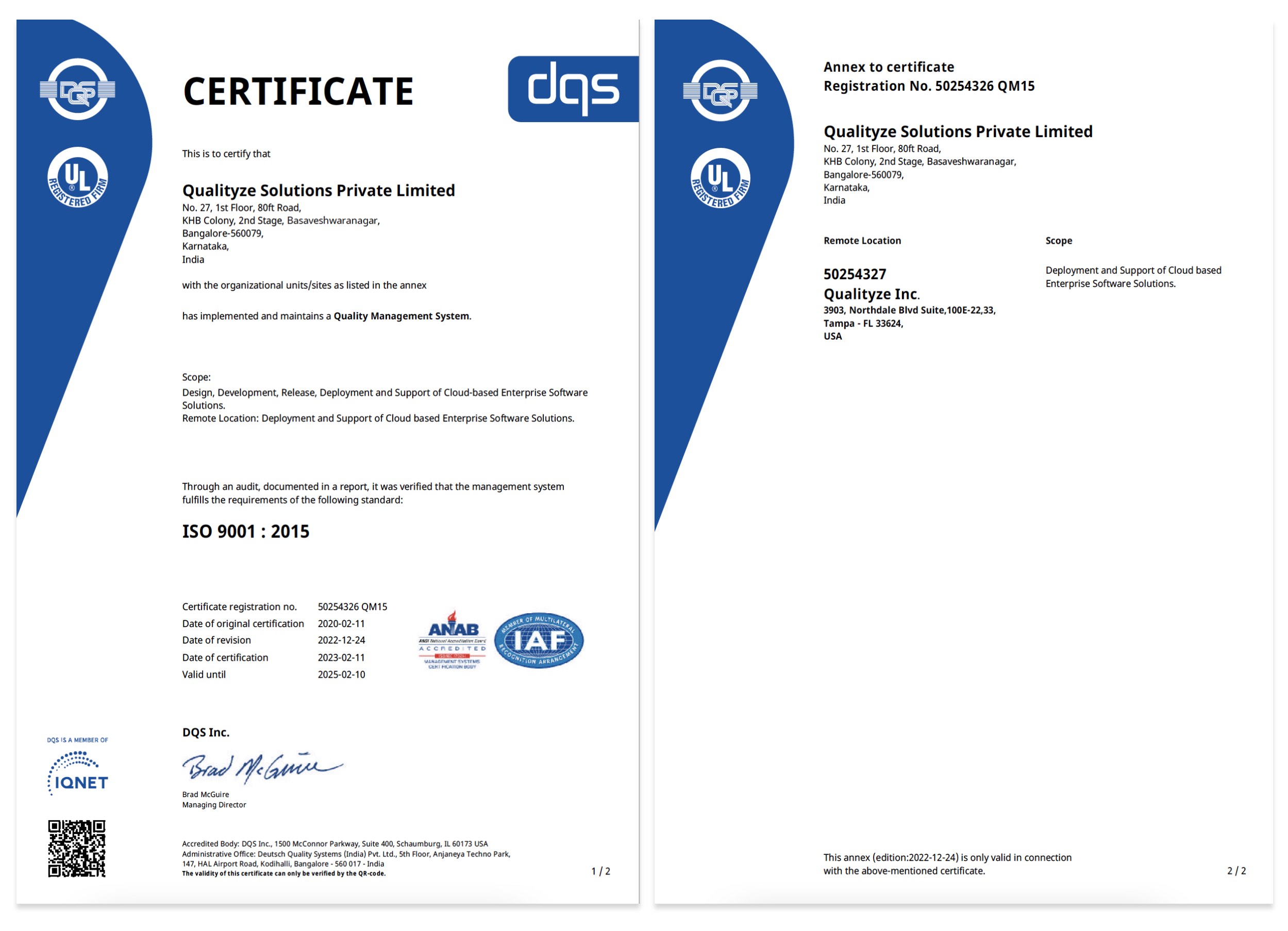 About DQS GmbH
DQS GmbH, an internationally accredited certification body, audited the quality management system at Qualityze and certified Qualityze, Inc. in accordance with ISO 9001:2015.
The Audit Company. Three words that stand for what we are and what we do: We are your specialist for audits and certifications – for management systems and processes. With the experience of more than 30 years and the expertise of 800 auditors, we are the competent partner of the management. We audit according to around 100 recognized standards and regulations or according to your specific requirements. Regional, national and international.